When you're looking for an original way to show your wedding guests how much they mean to you, our Top Trumps wedding table centrepieces are an ingenious solution. Put a name to a face! No need for official introductions as Top Trumps will help everyone to recognise their fellow guests from the photographs displayed on the cards. For the happy wedding couple, fill the Top Trumps pack with all those special moments, reminding family and friends of the happy memories they've shared with you both. Our packs comprise 30 cards. If the wedding party is smaller, it's easy to include special figures from your past or to double-up on the photographs of your guests. In loving memory, why not dedicate a card to a loved one who couldn't be there to share your special day?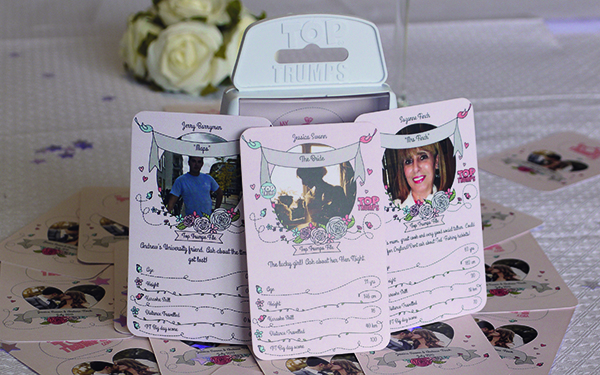 Handmade
If you're planning a classic, vintage wedding this personalised pack is the one for you. The hand-drawn style makes it a pretty accompaniment to a British summertime wedding celebration. Whether the reception is being held in a marquee, a hotel or a barn, a Top Trumps handmade deck not only finishes off the wedding décor; it will also make the perfect keepsake.

Wedding Cake
Thanks to their contemporary graphics and lettering, our wedding cake Top Trumps are designed to suit any wedding theme. These packs are the proverbial "icing on the cake"!

Wedding Ring
For that extra sparkle choose the diamond ring-inspired Top Trumps deck… after all, diamonds are forever.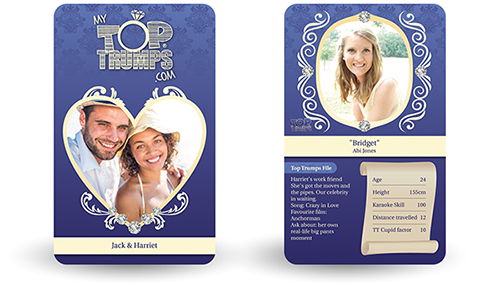 With a growing number of designs to choose from, you are sure to find a pack that will add the perfect finishing touch to your very Special Day – you could even use one of our general decks to spice up the event! Here's an idea; why not thank the bridal party for all their support with a personalised deck of their own - this can include the antics from the stag/hen night! Top Trumps wedding decks are an officially licensed Top Trumps product and the decks are also available in bulk. So order away and enjoy some great savings… trump that!